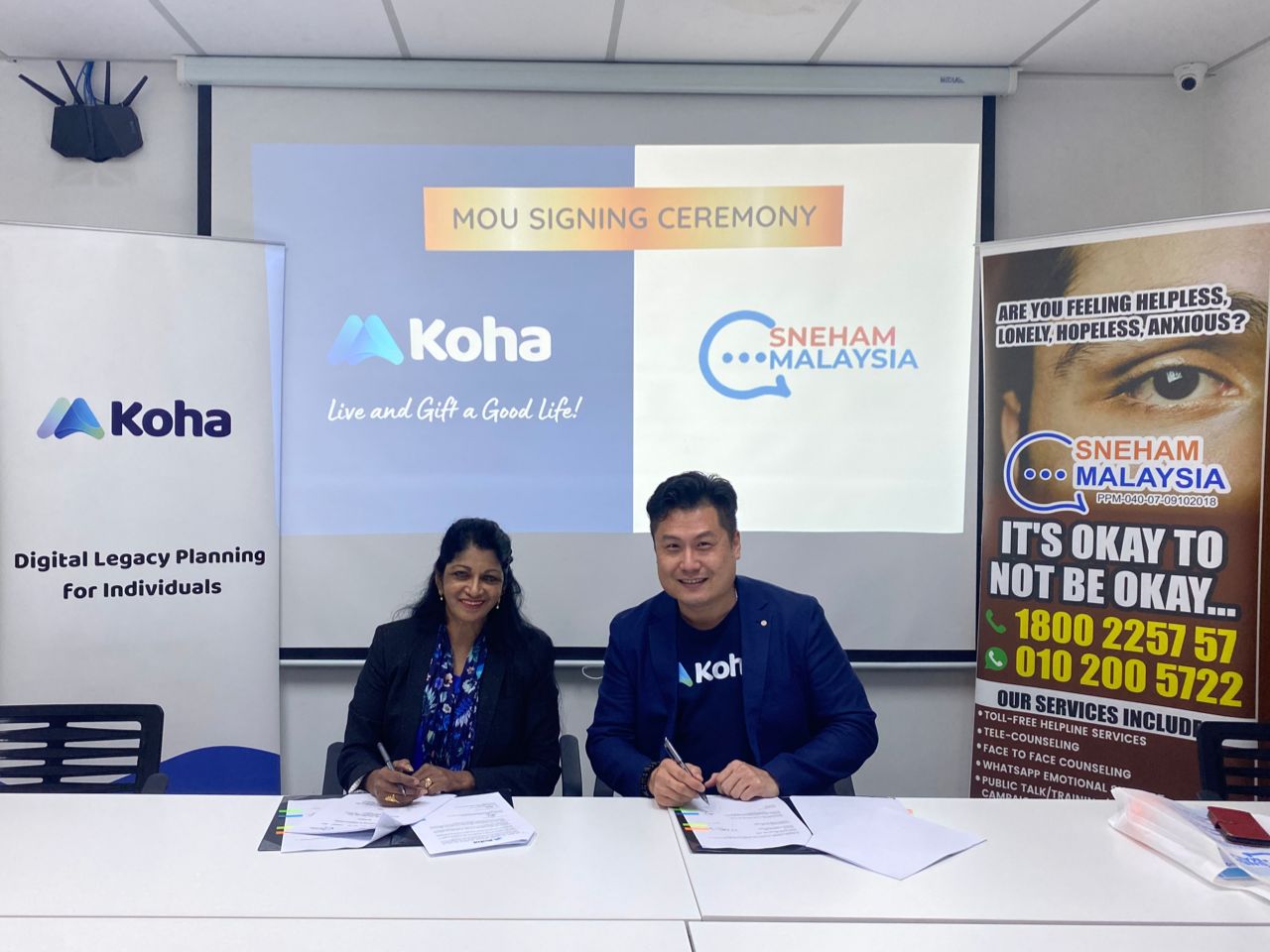 KUALA LUMPUR, 23 August 2023 – The Memorandum of Understanding ("MOU") has been signed between Koha Digital Holding Sdn. Bhd. ("Koha Digital") and Pertubuhan Kebajikan Sneham Malaysia ("Sneham Malaysia") on Wednesday August 23, 2023. The MOU was signed by Mr Peter Cheong, CEO of Koha Digital and Dato' Dr Florance, President of Sneham Malaysia.
It has been one of the main objectives of Koha Digital to pledge RM 100 Million to charity organisation. To achieve this objective, Koha Digital took an initiative step by offering a comprehensive platform to any Co-operative Society and Non-governmental Organisation ("NGO") that would like to utilise it to advertise their organisation while also raising funds. Although the platform is for online will writing, Koha Digital provides a one-way platform where users can plan and at the same time donate directly to any Co-operative Society or NGOs, in this case Sneham Malaysia.
"Pertubuhan Kebajikan Sneham Malaysia is deeply grateful to join KOHA Digital 's ambitious pledge of RM100 million to Malaysian NGOs. It is heartwarming to see a company going beyond their business to encourage its clients to contribute to social causes in their legacy planning. Koha Digital's commitment to offer options to clients to contribute to such causes not only helps organizations like ours but also creates a ripple effect of compassion and positive change in society. By fostering a culture of giving and social responsibility, Koha Digital is not only making a difference in the lives of individuals but also inspiring others to join the cause.
We firmly believe that being listed in Koha Digital's platform, Sneham Malaysia will benefit from the increased visibility, attracting potential donors, volunteers, and collaborators. Additionally, KOHA provides a user-friendly interface for individuals to make contributions, ensuring a seamless and secure donation process and generate greater support for our noble initiatives. The contributions will enable us to continue our life-saving work, provide emotional support to those in need, and create a society that values mental health and well-being.
Once again, thank you for your dedication to the betterment of society. We are honored to have your support, and we look forward to a continued partnership in our shared mission," says Dato' Dr Florance, President of Sneham Malaysia.
About Sneham Malaysia:
Pertubuhan Kebajikan Sneham Malaysia (Sneham Malaysia) is a registered, non-profit organization aimed at prevention of suicide. Established in 2018, Sneham Malaysia operates a toll-free helpline that offers services in three languages: Bahasa, Tamil, and English where individuals can seek emotional support and crisis intervention. Trained volunteers are available to provide non-judgmental and empathetic listening to those in need. Our helpline is accessible nationwide to all communities and age groups in the country, regardless of race, religion, gender, or ethnicity and it is free and confidential.
Sneham Malaysia's primary objective is to create a safe and supportive environment for individuals struggling with their mental health. By extending emotional support and crisis intervention, the organization strives to reduce the risk of suicide and promote well-being within the community.
By contributing to Sneham Malaysia, individuals and organizations can play a crucial role in supporting mental health initiatives, helping to save lives, and fostering a more compassionate and understanding society. Your financial support enables the organization to continue its valuable work and make a meaningful difference in the lives of those struggling with mental health issues.
About Koha Digital:
Koha Digital is a next-gen fintech platform for legacy planning. We take pride in our Malaysian roots and our transformative role in reshaping the landscape of legacy planning locally. Our comprehensive solution fosters trust and engages people throughout their life journey by providing integrated education sharing, innovative personal financial health and legacy planning, charitable distribution of wealth after death, and personalised video or letter messages to their loved ones. Our goals are to encourage everyone to plan their legacy for the inevitable event with ease and clarity, to maintain family harmony, and to encourage charitable giving to social causes. For more information or to plan your own Will, go to https://koha.digital.