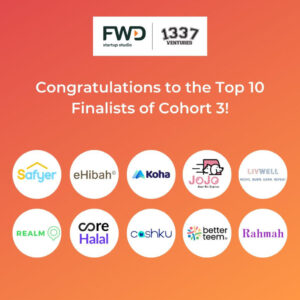 KUALA LUMPUR, 27 May 2022 – Koha Digital, the next-gen fintech company for legacy planning is proud to announce that it was selected as one of the Top 10 Finalists for the FWD – Alpha Startups™️ For Insurtech 2022 (Cohort 3) organised by 1337 Ventures and FWD Start-Up Studio.
The programme is supported by Malaysian Research Accelerator for Technology and Innovation (MRANTI) and Malaysia Digital Economy Corporation (MDEC) with the aims to identify and assist aspiring Malaysian entrepreneurs ideate, validate and fine-tune business and go-to-market plans for startups who have products/services in the area of Fintech, Insurtech & Takatech, and Islamic Fintech space in Malaysia
Koha Digital is amongst 25 startups to be selected in a 5 weeks pre-accelerator and thereafter successfully being shortlisted as Top 10 Finalists for an 8 weeks mentoring programme led by a diverse mentor network comprised of renowned Fintech/Insurtech business leaders, technology experts, investors, Shariah compliance experts, and others.
Through this experience, Koha management team has the opportunity to further widen our networking, continuously improve our product and looking for new ideas to cater effective solution for the communities especially in legacy planning. Live and Gift a Good Life!
About FWD Start-Up Studio:
FWD Insurance has announced the launch of FWD Start-Up Studio, a programme of support and investment for Insurtech and Takafultech start-ups in Malaysia. FWD Start-Up Studio is committed to achieving this goal through a comprehensive set of offerings that capture every step of a start-up's journey, ranging from educating entrepreneurs about opportunities and problem statements in the Insurtech context, helping start-ups go from idea to market via our pre-accelerator programmes, to even scaling up through funding, potential POCs and expansion to new countries.
About 1337 Ventures:
1337 Ventures is a Venture Capital (VC) firm in Malaysia focused on early-stage start-ups, assisting them through every growth phase. We're always discovering, funding & launching emerging startups. We organise quarterly Startups Accelerator programme, to help founders understand more about their customers, product and market which then helps them achieve product-market-fit in a shorter duration & we're always looking out for startups to invest.
About Koha:
Koha is a next-gen fintech platform for legacy planning. Our comprehensive solution fosters trust and engages people throughout their life journey by providing integrated education sharing, innovative personal financial health and legacy planning, charitable distribution of wealth after death, and personalised video or letter messages to their loved ones. Our goals are to encourage everyone to plan their legacy for the inevitable event with ease and clarity, to maintain family harmony, and to encourage charitable giving to social causes. For more information or to plan your own Will, go to https://koha.digital.