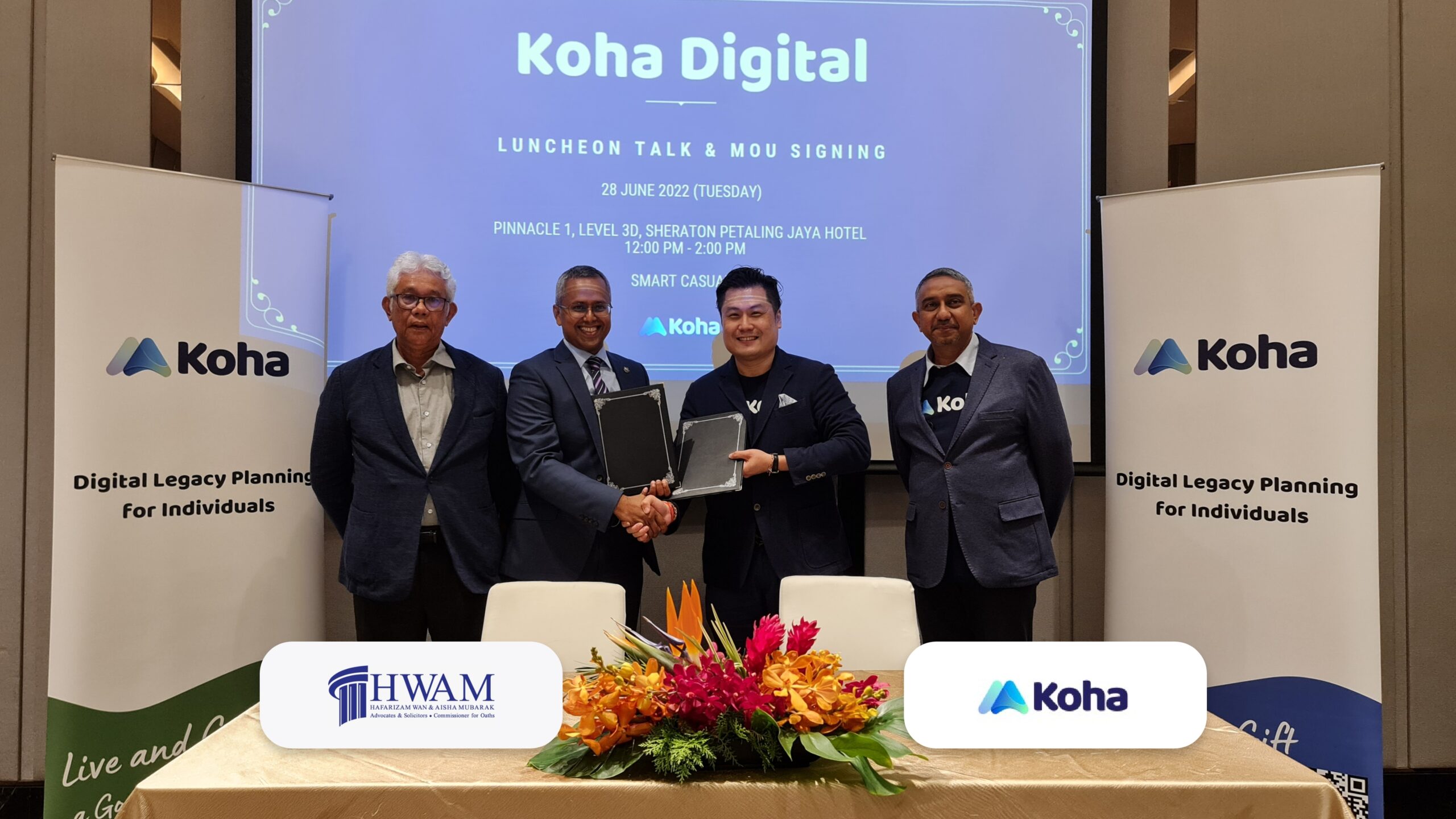 KUALA LUMPUR, June 28, 2022 – Koha Digital had successfully held "Koha Luncheon Talk & MOU Signing" event ("the Event") in conjunction of the company's 1 year of establishment. The purpose of the Event was to establish partnership with Koha's partners through the signing of Memorandum of Understanding ("MOU") and to discuss on method to be taken together with the respective partners to provide a seamless wealth management platform solution to our Legacy Planning community through partnership
The MOU has been signed between Koha Digital Sdn. Bhd. ("Koha Digital") led by Mr. Peter Cheong – CoFounder & CEO of Koha Digital, witnessed by Datuk Wira Mohd Hafarizam Harun – Chairman of Koha Digital and Messrs Hafarizam Wan & Aisha Mubarak ("HWAM") led by Datuk Abu Bakar Isa Ramat – Partner of HWAM, witnessed by YBhg. Tan Sri Zulkefli Bin Ahmad Makinudin – Consultant of HWAM on June 28, 2022 at Sheraton Petaling Jaya Hotel. The MOU is a type of mutual commitment in which Koha Digital and the respective partners provide digital platforms to their users in order to promote each other's products and services.
The Event was graced by Koha Digital's VVIP guest – YBhg. Tan Sri Zulkefli Bin Ahmad Makinuddin (Former President of Court of Appeal and currently Consultant of Messrs Hafarizam Wan & Aisha Mubarak) followed by the company's respective partners Allianz Life Malaysia Berhad, Palladium Trustee Berhad, ISRA International Consulting Sdn Bhd and WorkMart Digital Sdn Bhd.
The Event was also attended by the company's guests from My Premier Trustee Berhad Mr. Ari Raus Tun Md Raus – Managing Director and CEO accompanied by his Director, Mr. Selvakumar K. and from RHB Banking Group represented by Mr. Ganesh Mahendranathan – Head of Innovation and Mr. Adi Hanif Mohamed – Head of Shariah Business Advisory Department.
Koha Digital expressed gratitude to all of their distinguished guests for their effort to make the Event a success. "On behalf of Koha, we would like to extend our gratitude to all of our distinguished guests for trusting Koha's potential and be a part of our journey to become a leading Digital Legacy Planning Platform. We will further grow together, God willing." Says Datuk Wira Mohd Hafarizam Harun, Chairman of Koha Digital.
"Will is the most critical but often neglected part of legacy planning. I hope through the digitalization of legacy planning provided by Koha and legal services provided by our law firm, our community will be able to create their own Will at one's fingertip to protect their loved ones and avoid any financial hardships that may occur to their dependants." Says Datuk Abu Bakar Isa Ramat, Partner of Messrs Hafarizam Wan & Aisha Mubarak
About Messrs Hafarizam Wan & Aisha Mubarak:
Hafarizam Wan & Aisha Mubarak (HWAM) was established on 7 July 2007. HWAM is renowned in the legal-business fraternity for their high standards in discharging duties in handling multidisciplinary legal matters. Backed by significant years of legal practice, HWAM has proactively developed skills and expertise and aspire to bring the synergy of our collective experiences and diverse expertise with the ultimate aim of quality professional standards and client satisfaction. For more information go to https://www.hwam.com.my/
About Koha:
Koha is a next-gen fintech platform for legacy planning. Our comprehensive solution fosters trust and engages people throughout their life journey by providing integrated education sharing, innovative personal financial health and legacy planning, charitable distribution of wealth after death, and personalised video or letter messages to their loved ones. Our goals are to encourage everyone to plan their legacy for the inevitable event with ease and clarity, to maintain family harmony, and to encourage charitable giving to social causes. For more information or to plan your own Will, go to https://koha.digital