Project Descriptions
Project Description
Non-Governmental Organization (NGO), Animal Welfare, Cruelty Prevention
Who We Are
The Ipoh Society for the Prevention of Cruelty to Animals (ISPCA) is a non-profit and non-governmental organization formed under the Societies Act, 1966 Malaysia. We are affiliated to the Royal Society for the Prevention of Cruelty to Animals (RSPCA), London. We provide rescues to animals in distress, prevent or stop any form of abuse to animals. ISPCA also provide suggestions or advices to anyone regarding animals whether it is to adopt or to report cases of abuse.
ISPCA also has an animal shelter which upholds the 'NO KILL' Policy which we see it as a temporary shelter for the strays in need (Injured, old or sick etc), as we hope that strays that come into our shelter will eventually get adopted and have a forever home.
Mission
Prevention of cruelty to animals
Operation of Food Bank Program to feed the strays
Encouraging adoption of animals from shelters
Raising public awareness on responsible pet ownership
Rescuing of strays in distress when reported to us
Vision
ISPCA's mission is to promote the implementation of Trap-Neuter-Release-Management (TNRM) program not only in Ipoh area but in all of Malaysia with collaboration and support from City Councils in Malaysia. Currently, we have gotten supporting letters and some with memorandum of understanding from a few city/ district councils on the implementation of TNRM program as a method to effective control the stray population and to give strays' a better life.
All donations to ISPCA are tax exempted. Please send an email to ispca2016@gmail.com or whatsapp +6010-566 7363 (For faster response) to get the tax exemption receipt if you wish to have one upon your donation to us. Please include in the email or whatsapp message the following:
Full name
Mobile Number
Address (If you wish to have original receipt, otherwise we will send softcopy)
Amount of donation together with the bank transaction slip
PAYMENT MODE
Direct Bank In: 3060 433 821 (Public Bank Berhad)
Cheque addressed to: "ipoh society for the prevention of cruelty to animals"
QR Code for Donation (All participating bank with DuitNow and all E-wallet)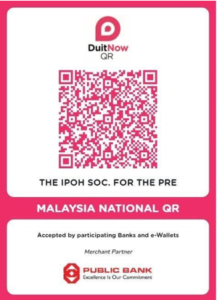 Mr Ricky Soong, Ms Joey Foo

(+6012-518 6915), (+6010-566 7363)

ispca2016@gmail.com

Registration No.: 2407/85

Tax Exempted: Yes

Lot 38642, 4 1/2 Miles Stone, Jalan Gopeng, 31300 Ipoh, Perak. Mailing Address: P O Box 316, 30740 Ipoh, Perak.

Year Established:

http://www.facebook.com/IpohSPCA

-

-

https://www.instagram.com/ipoh_spca/