Project Descriptions
Who we are:
With the driven belief that education is power, PERTUBUHAN DANA MAWADDAH (Reg No. PPM-002-06-19062015), a non-profit organization, was founded in 2015. Its primary purpose is to help students, especially orphans or those in need, to further their studies.
Hence, we provide scholarship (one-off and monthly) to the poor or orphans who are furthering their studies local and overseas. Scholarship or financial support are also given to those who are in primary or secondary schools and require financial assistance. In addition to this, we also provide financial support for hafiz (those memorizing the Al-Quran).
We strive to help those in need of financial assistance for education regardless of race, religion or background as we believe that through education, the battle against poverty can be won. Your contribution will greatly help as we solely depend on public aids and donation.
The Prophet Muhammad (peace be upon him) said: "Save yourself from hellfire by giving even half a date-fruit in charity." – Sahih Al-Bukhari, Volume 2, Hadith 498
Activities:
-monthly financial support
-one off financial support example: for flight ticket abroad, spectacles, computer laptop & tabs
– Back to School vouchers for underprivileged students
– Food hampers for Ramadhan, Eidul Fitr & Eidul Adha
– IFTAR (Breaking fast during Ramadan) for orphans & the poor
All donations to PERTUBUHAN DANA MAWADDAH are tax exempted
(LHDN.01/35/42/51/179-6.8562).
Send us an email to danamawaddah@yahoo.com or Whatsapp us at +60164126828 with your full name, IC number, address, and mobile phone number together with your bank transaction slip after you have donated so that we could post the receipt to you. The IC number is a requirement from LHDN. Please do notify us if you do not get your tax exempt receipt. The following are the few channels you could use to donate to us:
DIRECT BANK IN MAYBANK
Account number: 5560 1107 3030
CHEQUE addressed to "PERTUBUHAN DANA MAWADDAH"
Please mail the cheque to:No.1A, LORONG IM 10/5, BUKIT ISTANA, 25200,PAHANG, MALAYSIA .
BOOST APPS:  https://myboost.app.link/SDdxjKjqsgb
Touch'n Go eWallet. https://www.tngdigital.com.my/donation/campaign-details?alias=EP263205
Toyyibpay gateway: https://toyyibpay.com/INFAQ-FOR-STUDENTS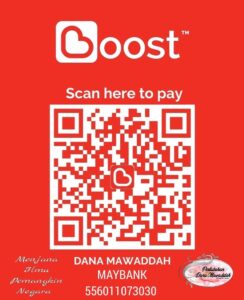 Hjh Nor'aishah Mohd Nordin

0164126828

danamawaddah@yahoo.com

PPM-002-06-19062015

Tax Exempted: Yes

No.13, Taman Sepakat, Kuantan, 25300, Pahang

Year Established: 2015

https://www.facebook.com/danamawaddah15

-

-

-